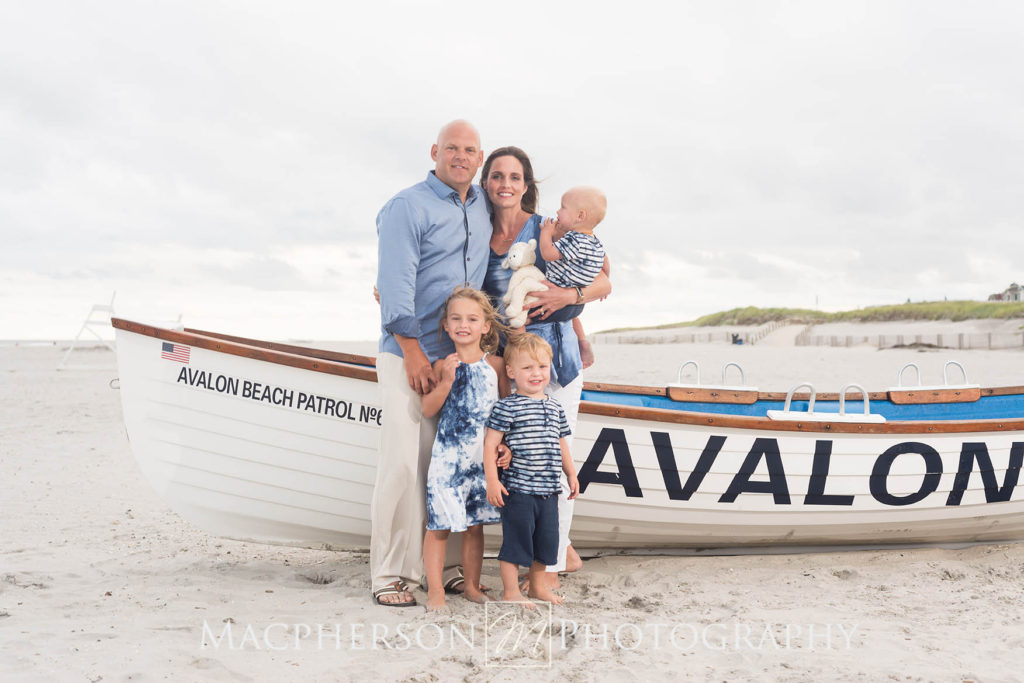 Welcome to Macpherson Photography, photographers in Avalon New Jersey. The beaches in Avalon are beautiful and clean everywhere you go. There really is no bad location in Avalon for a family portrait. But we are going to feature one of our favorite beach locations where all the best family beach photographers like to photograph family portraits in Avalon NJ.
Locations for Family Portraits in Avalon New Jersey
On the north end of Avalon there is a very long Jetty which is the South side of Townsend Inlet. Everything you would want a photograph with is there. The rocks offer some protection from the wind (depending on the direction), there are also huge dunes, lifeguard stands and boats, and of course the ocean. It is one of our favorite locations to photograph families in Avalon. Below are a few examples of family portraits at the north end.
Tips for family portraits
The later in the evening you can schedule your family portraits the better. The golden hour starts right as the sun dips below the horizon. We recommend starting before that time. If we start at 7:30 by 8:00 everyone is loose and feeling good. The start of the session is usually a little stiff and everyone is still not sure how everything is going to go. Once we are rolling and having fun everyone is more comfortable and we can capture better expressions. That is perfect since it will happen right as the light is perfect.
I know it can be tough with toddlers and babies. Usually they have an earlier bedtime. It's up to you and what is important. We always recommend keeping the kids up later so we can photograph in better lighting. But we aren't the ones who have to deal with them in the morning lol.
There are so many great photographers that cover the area! If you are planning a vacation and still need to book a photographer for your family portraits in Avalon NJ, email us and we will get back to you ASAP. Thanks!